About The LUX
The LUX has worked to develop a unique sense of community and place in Downtown Wichita while keeping true to the building's original 1950s character. It's modern, Downtown living, in a city that is in the midst of a great revitalization!
The first and second floors of the eight-story building are purposed for commercial space. CANDELA, an event space, is also located on the first floor, while the remaining six floors house apartments—totaling 86 units. FIND OUT WHAT UNITS ARE AVAILABLE.
The LUX is LEED SILVER CERTIFIED. Leadership in Energy and Environmental Design, or LEED, involves redefining the way we think about the places we live, work and learn. LEARN MORE
The LUX is rich in history.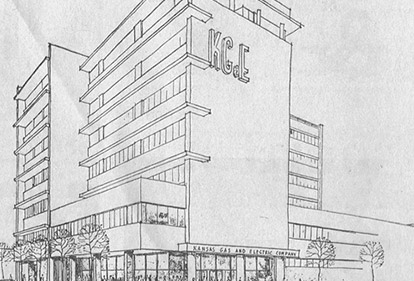 Originally built to house KG&E, 120 E. 1st St N. was the first of a major building boom that occurred in Wichita in 1954. Construction of the new KG&E offices took over two years to complete due to the customized detailing of both exterior and interior features of the building's design. In 1955, KG&E had grown to the point that it was able to list its common stock on the New York Stock Exchange.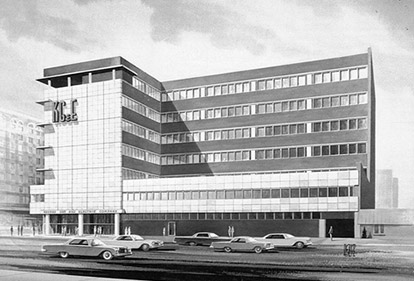 By 1967, KG&E announced their plan for a major addition of five stories to the existing 1953 building. The company stated that it was more important for KG&E to remain in Downtown Wichita.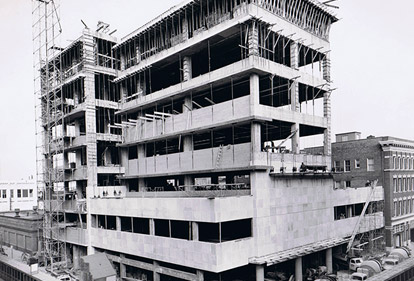 As originally designed and constructed, the seven-story building features ribboned aluminum-framed fenestration, expansive brick spandrels and continuous concrete sunshades (extensions of the monolithic floor slabs), with aluminum fascia above each floor. On the interior, the architects planned for a flexible workflow for a growing company. Subsequently, there have been some changes to the interior of the building, as a result of the 1969-1970 addition and remodeling and upgrades to office arrangement.