Leadership in Energy and Environmental Design, or LEED, involves redefining the way we think about the places we live, work and learn.
LEED certification provides verification that a building was designed, built or renovated using strategies aimed at sustainability, water saving, energy efficiency, materials selection and indoor environmental quality - in effect it becomes a Green Building.
LEED-certified buildings are designed to:
lower operating costs
conserve energy & water
be healthier & safer for occupants
increase asset value
reduce harmful greenhouse gas emissions
reduce waste sent to landfills
qualify for tax rebates, zoning allowances and other incentives
Pick one and learn.




Site
Design
Choosing a sustainable site helps reduce pollution to local plants and wildlife and minimizes negative effects on air and water quality usually brought about in construction. Renovating a quality building in a Downtown area goes a long way towards LEED Certification.
Water Use Reduction
Increasing water efficiency within buildings helps reduce the burden on municipal water supply and wastewater systems. By making water efficiency a priority, we can help reduce the 43.4 billions of gallons of water used in the United States.
Energy Efficiency
Establishing the minimum level of energy efficiency for a proposed building and systems is the focus of Energy Efficiency. The goal is to verify that the building's energy related systems are installed, calibrated and perform according to the owner's project requirements, basis of design and construction documents.
Materials & Resources
The intent of the Materials and Resources credit is to reduce the amount of waste from the building sent to the landfill both during construction and after everyone moves in. It is vital that we minimize the use of landfills and lessen the strain on natural resources.
Indoor Quality
Indoor Quality addresses the subtle issues that influence how we feel in a space. Buildings can enhance people's lives and experiences when they allow individuals proper circulation, comfortable temperatures, access to the outdoors and clean air.
Innovation in Design
The purpose of the Innovation in Design LEED credits is to recognize projects for innovative building features and sustainable building knowledge. The intent is to award design teams and projects for exceptional performance above requirements set by LEED, or innovative performance not addressed by the existing LEED rating system.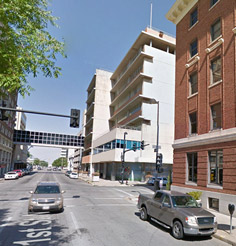 Building Renovation
Renovating a quality building in a Downtown area goes a long way towards LEED Certification. The density of the site, proximity to public transportation, and other surrounding businesses really gives the project a sustainable boost.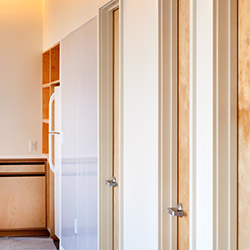 Translucent Walls
The interior of The LUX is made up of recyclable and green materials and resources, such as the translucent walls pictured and bamboo floors in the units.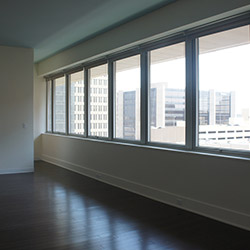 New Windows & Blinds
Indoor quality and energy efficiency is optimized through better insulation, improved daylighting design and high-efficiency HVAC systems found in The LUX units.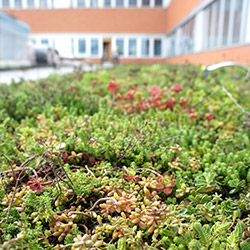 Not only does The LUX have the first green roof in Downtown Wichita, but the roof also helps to increase the building's cooling effect in the summer and maximize open space for residents.
The U.S. Green Building Council (USGBC) is a 501(c)(3) nonprofit organization committed to a prosperous and sustainable future for our nation through cost-efficient and energy-saving green buildings. USGBC works toward its mission of market transformation through its LEED green building program, robust educational offerings, a nationwide network of chapters and affiliates, the annual Greenbuild International Conference & Expo, and advocacy in support of public policy that encourages and enables green buildings and communities.